Publications and Media
Trees of the Montréal Process
Throughout the Montréal Process countries, trees and forests are an essential part of many people's lives. By virtue of the products and services they provide, the roles they play in traditional cultures as well as their simple beauty, certain tree species have become imbued with special significance in our respective cultures.
See Trees of the Montréal Process...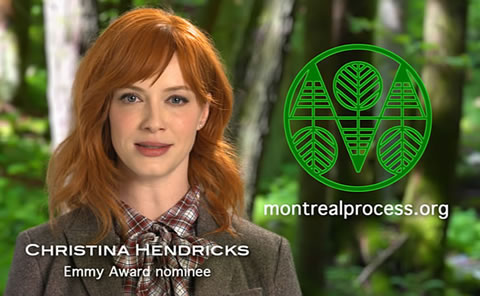 This public service announcement video is provided on the Montreal Process website for visitors who may not be able to connect to YouTube.
Subtitled Versions
On YouTube
The videos are also available from YouTube for visitors who have slower internet connections.
The Montreal Process Fact Sheet is meant to be a 4-page color fact sheet printed on 17-inch x 11-inch paper and folded over to be 8.5-inch x 11-inch brochure.
Overview and country highlights from the Montréal Process, 2019: English (PDF, 10.4 MB), French (PDF, 13.5 MB), Spanish (PDF, 9.8 MB)
Montréal Process Criteria and Indicators for the Conservation and Sustainable Management of Temperate and Boreal Forests TECHNICAL NOTES ON IMPLEMENTATION OF THE MONTRÉAL PROCESS CRITERIA AND INDICATORS, Criteria 1- 7, Third Edition, June 2009, Revised July 2014 (PDF, 530 KB)
Montréal Process Criteria and Indicators for the Conservation and Sustainable Management of Temperate and Boreal Forests, TECHNICAL NOTES ON IMPLEMENTATION OF THE MONTRÉAL PROCESS CRITERIA AND INDICATORS, Criteria 1- 7, Third Edition, June 2009 (PDF, 475 KB)
Posters of the Montréal Process Criteria and Indicators
Conference Proceedings: Forest Criteria and Indicators Analytical Framework and Report Workshop May 19-21, 2008 Joensuu, Finland
Report - Inter-Criteria and Indicator (C&I) Process Collaboration Workshop, June 8-10, 2006, Bialowieza, Poland (PDF, 600 KB)
Brochure for World Forestry Congress: Working Group on Criteria and Indicators for the Conservation and Sustainable Management of Temperate and Boreal Forests: Montréal Process, 2003 (PDF, 3.2 MB, 7 languages)
Scaling National Criteria and Indicators to the Local Level, 2001
Year 2000 Progress Report - The Montréal Process: Progress and Innovation in Implementing Criteria and Indicators for the Conservation and Sustainable Management of Temperate and Boreal Forests, April 2000, Ottawa, Canada
Criteria and Indicators for the Conservation and Sustainable Management of Temperate and Boreal Forests, The Montreal Process, December 1999 (Second Edition)
Opportunities for Further Technical Co-operation and Information Sharing Among Montréal Process Countries, November 29, 1999, Charleston, South Carolina, USA.
First Approximation Report of the Montréal Process, August 31, 1997
Progress on Implementation of the Montreal Process on Criteria and Indicators for the Conservation and Sustainable Management of Temperate and Boreal Forests, February 1997
Criteria and Indicators for the Conservation and Sustainable Management of Temperate and Boreal Forests, February 1995